How Is CBD Produced: From Plant To Product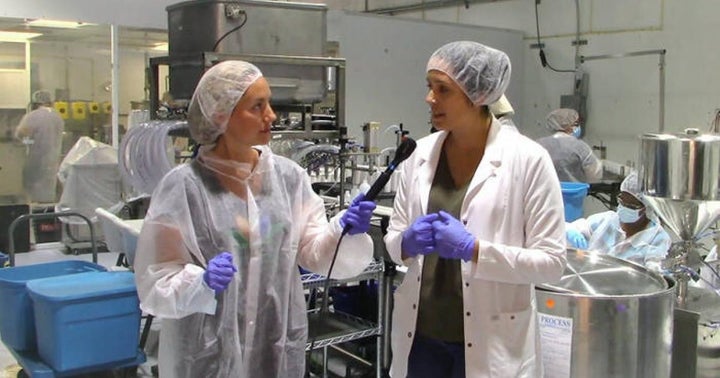 This article by Zora Degrandpre was originally published on Leafreport and appears here with permission.
Have you ever wondered exactly how your CBD product is made? Well, here you can see part of the process in a video tour of the Green Roads facility in Florida. You can watch a video that shows how Green Roads CBD cream is made from start to finish. Our interviewer Kristin leads us step by step through the Green Roads production facility
In the past few years, CBD has exploded on the market. There are still many things we all need to know if we choose the CBD brand. One of those things is how exactly your CBD oil is made.
Here is a general overview of this process.
game
Grow and reap
First someone has to grow the hemp! Remember, hemp contains less than 0.3% THC, so it's not intoxicating (it won't get you high). Hemp grows fairly quickly and ideally should be grown organically and sustainably without pesticides. Hemp is high in biomass and can be used to return nutrients to the soil so that sustainable growth is "built in", so to speak. Organic certification is a long and expensive process – currently many growers may be using organic methods but have not yet received official USDA "Organic" certification.
Next, the hemp flower is harvested – but before harvest it is tested to make sure the THC content is <0.3% - otherwise it cannot be used to make CBD. It is also tested for pesticide residues, heavy metals, and microbial contamination. The rest of the plant is most commonly used as biomass and some can be used as feed ... or to make hemp products.
The flowers of the hemp plant have the highest CBD content – therefore these flowers, which contain the trichomes (hair-like extensions of the flowers that contain resin glands), are harvested, tested and dried (air-dried) for 3-4 weeks. . The dried buds are now ready for extraction – the process that "pulls" CBD (along with other cannabinoids and terpenes) from the dried flower.
The Green Roads video doesn't deal with the cultivation and harvest of hemp – but at Green Roads all industrial hemp in the US is grown on registered farms and grows hemp that has both Certificates of Origin (CoO) and Certificates of Analysis (CoA) on it . [1]
Extraction is a physico-chemical process based on both the physical and chemical properties of everything you extract. In the CBD world, this usually means ethanol or CO`2 extraction processes along with some form of distillation.
With ethanol extraction, the dried plant is placed in an alcohol solution and soaked for a certain period of time. CBD, other cannabinoids and terpenes dissolve in the ethanol and leave behind the fibrous plant material.
CO2 extraction uses low temperatures to extract the CBD (along with the other botanicals) and requires some expensive equipment – but it produces a very pure end product.
The first extraction is often followed by a fractional distillation process based on the different boiling points of the various cannabinoids and terpenes. The end product here is often a very thick oil or even a solid, depending on the process used. (In the Green Roads video, the "CBD distillate" is a solid, yellow, waxy mass.) Other distillates can be more liquid and darker. The distillate contains very high concentrations (potencies) of the CBD, which makes it easier to dilute it to the amounts required in various formulations – whether these formulations consist of oils, tinctures, capsules, gel capsules or as a topical agent.
An additional fractionation or distillation step can be used to remove residual THC, changing the oil from a "full spectrum" to a "broad spectrum" CBD. Terpenes can also be removed through further distillation steps, providing pure CBD. CBD isolate can be obtained by drying these pure fractions of CBD oils. By the way – if the product is to be "zero THC", it can go through even more extraction and distillation steps.
Again – you won't see the extraction process in this Green Roads video – but according to their website, all raw materials "come from facilities that use the most advanced extraction technologies, including CO2 extraction".[1] The video contains a look at the solid, yellow full-spectrum CBD distillate that is processed into a CBD cream when you watch it.
Making CBD Oils
Now comes the mixing of the CBD distillate according to the recipe used by each company or brand. (This is where the Green Roads video comes in, although the first scenes only start at the end of the process – the packaging and labeling point)
CBD oils can be made by diluting the very highly concentrated CBD distillate with carrier oils and sometimes flavorings or additional ingredients. These ingredients can be other botanicals like passiflora or valerian root, if the oil is supposed to help people fall asleep, or other botanicals like orange oil for an energy boost, or amino acids like L-theanine to help people fall asleep. However, some CBD companies go the opposite way – they may use CBD isolates (pure CBD in solid form) and add it to carrier oils, flavors, or other ingredients. Carrier oils can include coconut oils (also known as MCT for medium chain triglycerides), hemp seed oil, grapeseed oil, or other oils. Why? First, because CBD dissolves easily in oils, and second, because the fatty oils are believed to be able to improve the absorption and bioavailability of CBD. Oils like orange or lemon oil are sometimes used to "mask" the "hempy" taste of pure CBD oils.
The concentrated distillate (or CBD isolate) can also be combined with various cream, balm and lotion bases for topical products. Or – it can be given as an oil in gel capsules or as a dried product in capsules. In the Green Roads video, the concentrated raw distillate is a solid, yellow, waxy substance and in the video you can see how a topical cream is made.
The video starts at this point and then goes into taking the full-spectrum CBD distillate and making a cream from it. After the first few scenes, you'll see both Kristin and Megan contaminated in full lab gear including lab coats, masks, hairnets (we don't see the footies, but they're there!).
game
The person in the background mixes the raw material according to Green Road's recipe (recipe) to produce a CBD cream. It is gently heated and mixed with a carrier oil. If you look at Green Roads topical creams, it could be the muscle and joint cream, which contains extracts of lavender, cucumber, and avocado oil (along with vitamin E); the Pain Relief Cream, which contains avocado oil, vitamin E, and eucalyptus oil; or the Skin Relief Cream, which contains safflower oil, avocado oil, and lavender oil. We don't know which ones, but the point here is that each cream has its own formulation or prescription with different total amounts of CBD – and at this step all the specific ingredients are added as per the pharmacist's formulation.
game
Packing and testing
The video starts and ends in the area where the final product – a CBD cream – is packaged, security sealed, labeled, deleted, and quarantined – and where copies of this batch are sent for third party testing. The whole process is automated – but there are real people who are constantly involved – some working on the process and others to review and certify that process. Green Roads takes quality control (QC) seriously!
Depending on the type of product, it is packaged in glass or plastic bottles and containers labeled with the overall potency (concentration) and list of ingredients along with instructions for use and other information. Each product is given a specific and unique batch number so that it can be traced.
game
Finally – the final step before selling is testing. Some companies test the product at every step, while others test the product at specific points in the production process. All companies should have the final product tested by an independent laboratory before it is delivered to you as a consumer. However, this is not the case for all, and one of our strongest recommendations is to make sure that every product you buy is third party tested for contaminants, microbial contaminants, toxins, and heavy metals.
A couple of final points
Another thing to check when purchasing CBD products is that the products you are looking at are made in a GMP facility. The system in the Green Roads video is a GMP system.
GMP stands for "Good Manufacturing Practices", a set of regulations that require manufacturers and processors of products to "take proactive steps to ensure that their products are safe, pure and effective".[2] The regulations followed come from the U.S. Food and Drug Administration (FDA) and include keeping accurate records, adhering to sanitary and hygienic guidelines, maintaining and precision equipment, qualifications required for personnel, process validation and testing as well as consumer complaints. The aim of GMP is to offer the consumer pure, precisely quantified and tested as well as high quality products.[3] In a GMP facility, all employees and visitors must be fully clothed, masked, provided with hairnets and shoes covered so that no contamination can accidentally get into the product. Green Roads' facility is GMP certified and explains why everyone wears lab coats and other protective gear.
[1] https://greenroads.com/how-our-cbd-is-made
[2] https://ispe.org/initiatives/regulatory-resources/gmp/what-is-gmp
[3] https://www.fda.gov/drugs/pharmaceutical-quality-resources/current-good-manufacturing-practice-cgmp-regulations
CPG, CBD manufacturer Global Widget to showcase award-winning products and new health and wellness brands at 2021 NACS Show in Chicago
TAMPA, Florida, September 15, 2021 / PRNewswire / – Global Widget, the maker and distributor of the iconic CBD brand Hemp Bombs® and contract manufacturer of CBD and health and wellness products, will showcase its latest alternative health and wellness brands at the 2021 NACS Show Chicago, 6-8 Oct, on McCormick Square.
In addition to hemp bombs, Global Widget will present its latest product lines Mystic Labs ™, hyper brain iQ ™ and Forever Well Nutrition ™. Global Widget will have two booths, one of which will be showcasing all of its products in partnership with CB Distributors and Fenix ​​SBT at booth # 1528. Its second booth, # 2868, offers retailers a chance to take a break at the Hemp Bomb Relaxation Station.
"We consider it a privilege to be part of the NACS Show 2021 and we look forward to seeing our distribution and retail partners in person," said Vince Gillen, Vice President of Sales at Global Widget. "In 2019 we were part of the very first CBD pavilion at the NACS Show. As leaders in the CBD category, retailers now recognize us as a trusted manufacturer who helps maximize sales by bringing brands and products to their stores that meet consumer demand. "
Global Widget will showcase its following brands at NACS 2021:
Hemp bombs – with CBD gummies, oils, topicals, vape products and Delta-8 gummies
Mystic Labs – with kratom and Delta-8 gums, oils and vape products
hyper brain iQ – with nootropic gums and capsules
Forever Well Nutrition – a new health and wellness brand in partnership with America's Personal Trainer ™

Tony Little

with gums, topicals and oils
Earlier this year, the Delta-8 Gummies hemp bombs were voted CSP Daily News Retailer's Choice Best New Product by over 1,000 retailers. In 2020, Hemp Bombs Original, High Potency and Sleep CBD Gummies received the same honor.
"Since gummy bears are a top delivery method, the feedback from our trading partners confirms the quality and popularity of our products," said Gillen. "Everything we do, we do in-house, including product development, formulation, manufacturing, marketing and quality control. We give retailers the greatest confidence that they are working with a trusted, experienced manufacturer who is committed to increasing sales with products made for c-stores. "
about us
Global Widget, founded in 2016 and headquartered in Tampa, Florida, is a vertically integrated manufacturer, distributor and marketer of CBD and health and wellness products and a leader in the manufacture and packaging of gummy bears. The company is the trusted powerhouse behind the CBD brands Hemp Bombs and Nature's Script, as well as the wellness brand Defense Boost. With more than 150,000 square feet of manufacturing space and over 300 employees, Global Widget is one of the largest CBD companies in the country and a leading contract manufacturer providing high quality products and support services to retailers, distributors and private brands worldwide. https://globalwidget.com/.
Media contact:
Joe Agostinelli, PR manager
813.497.5752 | [email protected]
SOURCE Global widget
similar links
global-widget.com
CBD: What it is, how it's used and what we still don't know
CBD products are now rampant after the 2018 Hemp Farm Act legalized hemp products in the United States.
Getty Images

Once a marginal health trend, CBD is now so widespread that it can be used to buy products in pharmacies, grocery stores and countless online retailers. For this we owe the US Farm Bill, that legalized industrial hemp in 2018, allowing CBD products to be sold over the counter in the United States.
CBD has also grown in popularity as more states have legalized medicinal and recreational cannabis products that contain THC, the chemical compound in cannabis that is responsible for the "high" feeling.
This story covers substances that are legal in some places but not in others, and is for informational purposes only and not for legal advice purposes. You shouldn't be doing illegal things – this story doesn't endorse or encourage illegal drug use.
Depending on where you live, you can find CBD at CVS, your local gas station, Pet stores — even Carls Jr. The only thing that is spreading faster than CBD seems to be the confusion about what exactly it is and who it is for. Whether you're already a user or just curious about CBD, this primer will help you penetrate the misinformation and get yourself up to speed.
What is CBD?

CBD, or cannabidiol, is a chemical compound from the cannabinoid family that occurs naturally in the cannabis plant. Scientists have isolated 108 different types of cannabinoids in cannabis.
Delta-9-tetrahydrocannabinol, or THC, is probably the best-known chemical compound found in cannabis due to its psychoactive properties – but CBD is rapidly gaining ground due to its potential therapeutic benefits.
How does CBD work?
CBD (and THC) work by interacting with our body's endocannabinoid system, a regulatory system made up of naturally occurring cannabis-like molecules. These endocannabinoids, as they are called, act like neurotransmitters, carrying messages around the body to help maintain homeostasis. Cannabinoids like CBD and THC interact with the endocannabinoid system at two known receptors: CB1 and CB2.
CB1 receptors are primarily found in the brain – where they are involved in cognition, memory, motor skills, and pain – but also in the peripheral nervous system, liver, thyroid, uterus, and more. THC binds to these receptors, inhibiting the release of neurotransmitters, and potentially increasing the release of others, thereby altering normal function.
CBD oil is a popular way people use CBD
R + R Medicines / Unsplash

Researchers once thought that CBD did the same thing, but with CB2 receptors – which are abundant in the immune and gastrointestinal systems, as well as the brain and nervous systems. However, they no longer believe that this is true.
Although the exact way CBD works on our bodies is still unknown, scientists believe that CBD encourages the body to make more of its own endocannabinoids, which can help reduce anxiety. pains and inflammation.
Continue reading: CBD-infused activewear has no science on its side – yet
Is CBD Legal?
Technically yesbut the answer isn't quite that cut and dried.
The cannabis plant comes in many different varieties. For decades, however, the US Drug Enforcement Administration (DEA) treated them all equally, classifying cannabis as a List I substance. It is believed that List I drugs "have no currently accepted medical use and high potential for abuse" and are therefore illegal to manufacture or possess.
However, the 2018 Agriculture Improvement Act (also known as the Farm Bill) changed that. The Farm Bill legalized "hemp," which the law defines as cannabis containing no more than 0.3% THC, nationwide.
Cannabis, which contains higher levels of THC, is now listed as "marijuana" and remains a List I drug.
CBD products are sold online or at pharmacies in states where cannabis is legalized.
Alex Person / Unsplash

In other words, if a CBD product is made from a hemp plant, it is legal; If it's from a marijuana plant, it's illegal nationwide, despite local laws. And even if it comes from a hemp plant, there is often no guarantee it won't contain THC thanks to things like cross-pollination and a lack of industry regulation (see "What Are the Risks of Taking CBD?" Below).
The Food and Drug Administration has been researching ways to research and regulate CBD for several years. No over-the-counter CBD products are currently approved or cleared by the FDA, and there is no nationwide standard for CBD products. However, some states, including Indiana and Utah, require that cannabis products be tested for potency and purity.
Continue reading: Can CBD cause you to fail a drug test?
What Are the Health Benefits of CBD?
CBD is being marketed as a little panacea, with manufacturers claiming it can do anything from relieving anxiety to stopping the spread of cancer. However, the classification of cannabis as a List 1 drug has severely hampered the ability of American scientists to study CBD, making it difficult to support or refute these claims. Most of the studies available are small or performed on animals or in laboratories.
That said, CBD holds great promise. Early experimentation suggests that it may help fight anxiety, relieve symptoms of schizophrenia, and Reduce pain (although the latter is often done in conjunction with THC).
However, the strongest evidence of CBD's effectiveness is in relation to epilepsy. In 2018, the FDA approved Epidiolex, a drug used to treat Lennox-Gastaut and Dravet syndromes, two rare and severe forms of epilepsy. In 2020, Epidiolex was approved for the treatment of seizures related to the tuberous sclerosis complex. Epidiolex was the agency's first approval for a cannabis-derived drug and has paved the way for the development of more CBD-based drugs to treat diseases.
How is CBD used?
CBD is available in different forms. Some of the most common CBD delivery methods are listed below, but how it is ultimately used depends on personal needs and preferences. The method of administration of CBD affects how quickly it works and what effects it has on the body.
CBD is available in many different forms, including the oils and tinctures shown here.
Geoffroy Van Der Hasselt / AFP / Getty Images

Edibles are a wide range of products to eat or drink, such as gummy bears or chocolates. Edibles can take anywhere from 20 minutes to four hours to work.
Oils and tinctures are processed and concentrated forms of CBD that are often placed under the tongue with a pipette and absorbed into the bloodstream.
Pills and capsules are taken orally and are similar to the vitamins and / or medications you might find in a drug store. They typically contain CBD oil or CBD isolate.
subjects are CBD-infused oils, creams and lotions that are intended to be applied directly to the skin, hair or nails. They are popular for treating localized pain, but are also used as skin care, hair care, and massage oils.
VapingAs with e-cigarettes, it involves inhaling a vaporized liquid that contains CBD oil. Nicotine is usually not present when CBD is present, although it is possible to mix them.
What are the risks of taking CBD?

A 2017 report from the World Health Organization found that CBD in its pure state is safe, well tolerated by humans and animals, and is unlikely to cause physical addiction or abuse. And according to the National Institutes of Health (NIH), 1,500 mg of CBD was safely taken orally daily for up to four weeks.
CBD oil is likely safe for anxious pets, but research has yet to prove it helps.
R + R Medicines / Unsplash

However, there are still some risks associated with taking CBD that you should be aware of:
Side effects. Dry mouth, low blood pressure, drowsiness and sleepiness, and signs of liver damage have been reported, according to the NIH, although the latter are less common.
Limited research. The classification of CBD as a List I drug severely limits the number of studies researchers can conduct on the compound. What is out there is promising, but there are still a lot of unknowns about what conditions CBD could help with and how much people would need to take to be effective. This means that if you are taking CBD to treat a specific disease, you may be ingesting too much or too little, or wasting your money altogether.
Insufficient regulation. There are no standards for making, testing, or labeling CBD products, making any kind of federal oversight or quality control impossible. In fact, Penn Medicine researchers found that nearly 70 percent of CBD products bought online contained either more CBD than the label says – which could be dangerous – or less than what is advertised, which could negate any potential benefits. Many products also contained significant amounts of THC.
Drug interactions. Not much is known about how CBD could affect other medications, but experts say it could affect how quickly the body breaks down a variety of prescription drugs, which can increase the side effects. It can also improve the sedative properties of herbs and supplements that are known to cause drowsiness or drowsiness. Talk to your doctor or pharmacist to make sure if something you take regularly could be affected by CBD.
Pre- and postnatal unknowns. There is still insufficient evidence to indicate whether it is safe to use CBD while pregnant or breastfeeding. Experts advise avoidance.
The information contained in this article is for educational and informational purposes only and is not intended as health or medical advice. Always contact a doctor or other qualified health care provider with questions about a medical condition or health goals.
How CBD's popularity can help your CBD brand
If you have a CBD company, chances are you're glad it's trending all over the world. After all, it means easy and steady flow of customers, doesn't it? Well, you have to do even better to hold your own against your competitors!
Before we can help your CBD brand, we need to go through the ongoing CBD trend. Then we'll examine your options for capitalizing on the expanding popularity of CBD. Later, you'll see how the right digital marketing agency can help your brand grow!
Today, more and more people around the world are using cannabidiol (CBD) products. However, this means that you have more brands for your customer base. Learn How To Thrive, Not Just Survive, In The Growing CBD Industry Today!
What are the health benefits of CBD?
Many health trends come and go, yet more and more people are using CBD. Why is that? With any product, you need to consider how people are using it. And CBD products have many uses!
Ancient people used cannabis plants for herbal remedies. Nowadays, experts have recognized the benefits of this plant. Because of this, many people see CBD products as natural.
Studies suggest that CBD reduces symptoms of certain health problems. These range from the physical to the spiritual. Let's take a look at some of them now:
Chronic pain
Blood pressure
anxiety
depression
diabetes
Cancer-related symptoms
… even acne!
The United States has even approved a drug that contains CBD. It's called Epidiolex and it can help with Lennox-Gastaut syndrome and Dravet syndrome.
Are these the only reasons CBD is so popular?
Americans noticed these positive health effects. Eventually, CBD consumption increased across the country. Then some states started allowing CBD. In 2018 the Farm Bill was passed.
In March 2021, former New York Governor Andrew Cuomo signed the Assembly Bill A1248A. This enabled more New Yorkers to buy, sell, and use cannabis products.
Studies also confirm this. In 2020, 33% of adults in the US were using CBD. According to Consumer Reports in 2019, around 64 million Americans have tried it in the past 24 months.
Laws and health benefits aren't the only ones driving CBD's popularity. Because of the great variety of products, more and more people are buying them. Here are some examples:
CBD oil tinctures
Capsules
Topical creams
Lip balm
CBD gummies
… even dog snacks!
Read More: 12 Ways To Promote Your Business
How do you advertise CBD products effectively?
We said you need to put more effort into promoting your brand. Cannabidiol (CBD) is becoming more and more known and accepted. But isn't that a good thing?
Well, it's great when you're the only one with CBD goodies. Current trends have made it easier to get into the CBD industry. This could mean more brands take your customers away!
The internet can be good and bad for your business too. This enables you to reach customers outside of your region. In other words, you can sell to people in states far away.
However, the internet is filled with other brands of CBD as well. Your customers can only pay attention to a few. If you can't get their looks, you can't get any more sales!
Fortunately, there are numerous methods that can help you promote your products on the internet. However, only one will not work. Use a mix of these strategies to boost your marketing campaign:
Affiliate marketing
This is the case when someone outside of a company is promoting products and services. People can do this voluntarily to make money. Take Blosum's Ambassador Program as an example.
Members must encourage others to buy Blosum products. More importantly, the new customers use the member's affiliate link to shop.
You could reach people using social media platforms. If not, an affiliate could use their website. As soon as a person buys via the link, the Blosum partner receives 10-20% commission.
You may find it easy to attract affiliate marketers to your brand. After all, it's a trending source of passive income these days. Your program could help people earn more these days.
Influencing marketing
The internet enables ordinary people to share their talents with the world. This is why you see a lot of them gaining millions or even billions of followers on social media!
Imagine if one of them is promoting your brand. They could help you reach over a million customers easily. This is why influencer marketing is popular these days.
You could get a deal with online influencers to promote your products. They will share your goods and services on videos and in other ways. In return, you pay them an agreed amount.
They're especially helpful because Facebook doesn't allow you to promote CBD. Other social media have similar rules. Influencers can still help you get more customers.
Sponsored content
People have been using the internet for several years. We have been facing online advertising methods for so long. At some point we got used to them.
Because of this, direct mail doesn't work as well as it did in the past. Instead, companies often use sponsored content for their marketing campaigns.
It's like posting a guest post on another company's website. However, sponsored content looks like it does on a third-party website.
This is a great way to subtly promote your brand. In addition, it is intended to provide readers with useful information. In return, they'll rely on your posts and see your brand positively.
Search engine optimization (SEO)
The popularity of CBD is flooding the internet with more related content. People can't take care of everyone. If you don't do anything, your online content won't get any clicks or views.
Search engines look for certain keywords when they are used to search for something. If your content includes these terms, the chances are higher that you will land on search results pages.
This is the core of search engine optimization, or SEO. However, you need to follow other rules for better results. Read this article to learn more about SEO.
Home advertising
With all this digital marketing conversation, you might think that the old ways are now useless. But that's not true! An effective marketing campaign involves several methods.
This will maximize the benefits you get from CBD's popularity. You don't have to use all of them, however. Pick the ones that work best for your brand.
Let's say you need more customers in your area. You may want to add advertising for your home to your campaign. It refers to conventional advertising methods like billboards.
Always find new and better ways to promote your brand! They are often more expensive than digital marketing methods. Still, they could improve your marketing efforts.
Are there other things I should remember?
Before you start using our tips, there are a few things to keep in mind. First, always follow the Food and Drug Administration guidelines regarding CBD.
According to the Farm Bill, CBD products may only contain 0.3% tetrahydrocannabinol (THC). Some brands contain this tiny amount to improve their products.
In addition, you should properly inform your customers about the recommended dose of CBD. Your goods should have proper and legible labels.
Add a disclaimer to your products. It should state that your goods are not intended to be used to cure diseases. Also, people should seek medical advice to avoid the unwanted effects of CBD.
Is there any other way to manage my marketing?
Maybe your CBD brand is starting. It can be tough, especially during a pandemic. You have other aspects of your business to worry about, not just marketing.
That doesn't mean you should be wasting your campaigns. A good digital marketing agency can do your marketing for you. Take LeadAdvisors, for example.
It is a marketing agency that has done marketing campaigns for numerous clients. They are also particularly good at using CBD products.
Talk to the agency to recruit the best experts from LeadAdvisors. They take care of your SEO and landing pages so you can focus on your brand. Click this link for more information.
Final thoughts
Need More Ways To Promote Your CBD Brand? There is always a way to make a better marketing campaign! Check out this other article for more ways to drive traffic to your website.
If you want to know what an excellent CBD brand looks like, check out Blosum. The company offers many types of CBD products. In addition, high quality CBD can be shipped anywhere in the US.
You may want to read other topics. We have other great discussions about the new normal and even cryptocurrency! If so, check out other quality Inquirer USA items.
Find out more about the popularity of CBD
Why is CBD so popular?
Over the years, people have seen the many potential benefits of CBD. Some people use it to help with chronic pain, muscle pain, and other health problems. However, some products contain a small amount of THC which improves the effects. In addition, it is separate from the potentially harmful THC found in cannabis plants.
What Are The Uses Of CBD?
In the past, the cannabis plant was used as a type of herbal pain reliever. Some people use them to help with all types of pain. Some rub it on their bodies to reduce the symptoms of certain skin problems. The FDA has not approved CBD oil or related products for the treatment of health conditions.
What are the possible side effects of CBD?
Some of the side effects of CBD can include diarrhea, fatigue, or weight changes. It is for this reason that you should consult your doctor before purchasing any CBD product. Also, you can only get your CBD goodies from legal retailers. In addition, only take the amount of product indicated on the product label.
Disclaimer: is CBD legal?
Hemp-derived CBD products (containing less than 0.3 percent THC) are legal at the federal level. These statements have not been evaluated by the Food and Drug Administration (FDA). This product is not intended to be used to diagnose, treat, cure, or prevent any disease and the products have not been approved by the FDA. You must be 21 years or older to purchase these products. Talk to your doctor or health care professional for more information.
Subscribe to our newsletter!

Get updates straight to your inbox
Do not miss any news and information.