Study Raises Concerns Over Heavy Metals In Cannabis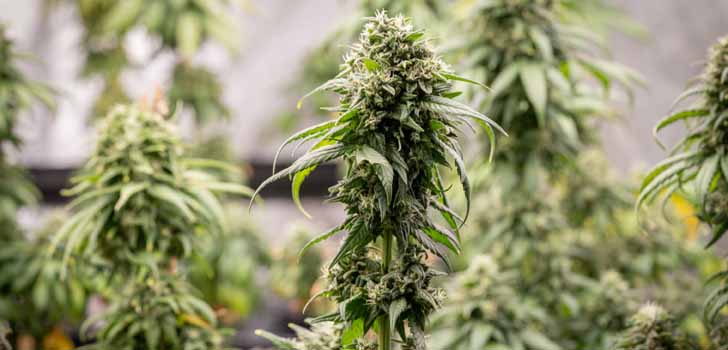 A recent study raised concerns about the heavy metal content in cannabis plants.
In a recent report, Penn State researchers raised concerns about heavy metal contamination in cannabis, which can cause health problems such as cancer and neurological problems in users.
The report examines cannabis' ability to absorb heavy metals, describes the health effects it has on consumers, and suggests how growers can address the problem.
Since cannabis is a phytoremediator, i.e. it extracts environmental pollutants from the soil, the toxins absorbed by the plant remain in it and in all products made from it.
Chernobyl and soil pollution
A notable example of the use of cannabis for its phytoremediation properties is the Chernobyl power plant in Pripyat, Ukraine.
On April 26, 1986, an accident occurred in reactor No. 4 of the Chernobyl power plant during a safety test on the steam turbine of a nuclear reactor.
A combination of operator negligence and critical design flaws melted the core and at least two explosions broke the reactor core and destroyed its building.
The Chernobyl disaster is considered to be one of the worst nuclear disasters in history.
Subsequent investigations of the 30 kilometer long area around the Chernobyl power plant revealed high concentrations of lead, cesium-137, strontium-90 and plutonium in the soil, in plant and animal tissues.
In 1998, hemp was grown in Chernobyl to remove pollutants from the soil and reduce toxicity.
While hemp is beneficial for removing toxins from contaminated environments, cannabis plants intended for human consumption must be clean and free of contamination.
Infinite Chemical Analysis Labs Laboratory Director Jayneil Kamdar Ph.D. says cannabis belongs to a category of plants called hyperaccumulators that can build heavy metals into the soil more quickly through their root systems.
"In fact, this hyperaccumulative ability often makes cannabis a very promising candidate for phytoremediation of heavy metals in contaminated soils," says Kamdar. "On the other hand, additional precautions need to be taken to ensure that cannabis plants are grown in uncontaminated soil to reduce public health risks. It is imperative that all cannabis and hemp strains intended for medical or recreational use are tested in a government-certified laboratory such as InfiniteCAL before they are available on the market. "
According to InfiniteCAL, extensive test rules and regulations should be implemented to combat contamination.
Phytoremediation
According to the research team, some cannabis strains are bred to improve phytoremediation properties such as long stem length, fast growth, and high root and leaf area.
The Penn State research team learned that lead, cadmium, and chromium migrate through the stem and into the leaves and flowers, and then exit through the plant's trichomes.
Trichomes are a major focus in the cannabis industry because the hair-like structures are where the plant stores tetrahydrocannabinol (THC) and cannabidiol (CBD) oils.
Although cannabis contaminated with heavy metals or other toxins is never safe to consume, it is of particular concern for medicinal cannabis patients.
When someone uses cannabis as medicine, it cannot contain pollutants such as heavy metals that can cause various side effects.
Health hazards from heavy metals
Louis Bengyella, Penn State Assistant Research Professor, says heavy metals like lead, cadmium, mercury, and chromium are known carcinogens.
"The heavy metal content of cannabis is not regulated; As a result, consumers could be unknowingly exposed to these toxic metals, "says Bengyella. "This is bad news for anyone who uses cannabis, but is especially problematic for cancer patients who use medical marijuana to manage the nausea and pain associated with their treatments."
Bengyella says smoked cannabis poses the greatest threat to human health as it can contain selenium, mercury, cadmium, lead, chromium, nickel and arsenic.
Bengyella says cannabis users, especially cancer patients, can cause unnecessary physical harm.
Arsenic can damage blood vessels and other organs and tissues in the body, and lead can affect the gastrointestinal tract and central nervous system.
Cadmium causes bone and lung damage, chromium causes cardiovascular, respiratory and other internal problems, and mercury can damage the kidneys, brain, nervous system and lungs.
In addition, heavy metals can cause other serious problems such as various types of cancer, allergies, psychosis, autism, tumors, and chromosomal aberrations.
Find a solution
Bengyella says that while the problem is at the consumer level, it needs to be addressed at the agricultural level.
Study authors say that choosing cannabis strains that were not bred for phytoremediation and using farmland free of heavy metals can reduce contamination.
The authors recommend avoiding abandoned industrial sites and performing air quality and soil pH tests before choosing a location to grow cannabis.
"A blueprint of agronomic strategies is proposed to reduce the uptake of HMs by cannabis," the abstract of the study reads. "We show that modernizing global cannabis production requires rethinking best agronomic practices and post-harvest technologies to remove metallic contaminants."
64
Innovations and Advancements in the $4.6 Billion CBD Market
The company invites investors, analysts and advisors to participate in its real-time interactive fireside chat
SOUTHEASTON, MA / ACCESSWIRE / January 19, 2022 / Pressure BioSciences, Inc. (OTCQB:PBIO) ("PBI" and the "Company"), a leader in the development and sale of innovative, diversified, pressure-based instruments, consumables and services for the global food and beverage industry, Biotherapeutic and personal wellness industries today announced the Company's participation in the January 20 webinar, "Innovations and Advances in the CBD Market," sponsored by the FORCE Family Office. This real-time, interactive "fireside chat" features three companies that have released or are about to release important, innovative products and services and/or advancements in the CBD space.
DATE: Thursday, January 20, 2022 (noon ET)
PRESENTATION: Video Webcast
REGISTER: Click here to register for the FORCE webinar
panelist.
Druck BioSciences, Inc. (OTCQB: PBIO) plans to release its revolutionary Ultra Shear Technology™ (UST™) platform for the production of water-soluble, long-term stable, highly bioavailable nanoemulsions from oil and water (e.g. CBD oil and water) in mid-2022. Mr. Richard T. Schumacher, Founder and CEO, will be present as a panelist.

ProVerde Laboratories (Private) is a highly respected analytical testing laboratory that brings quality and integrity to the cannabis space. dr Christopher Hudalla, Founder and CSO, was recently named one of the Top 10 Influencers in Cannabis Science. dr Hudalla will be a panelist.

The Alkaline Water Company (NASDAQ:WTER) is a fast-growing company that recently launched an innovative CBD-infused bottled water to bring functional benefits to consumers. Mr. Richard "Ricky" Wright, Founder and CEO, will participate as a panelist.

FORCE Family Office is the largest network of family offices in the United States. CEO Steven Saltzstein will be the moderator of the webinar.
The story goes on
Selected recent key announcements – PBIO
PBIO produces CBD oil nanoemulsions with 18 months of rock-solid stability

Plans announced for UST demo and toll manufacturing facilities on US West and East Coasts

Second US patent granted for revolutionary UST platform

UST successfully converts neem oil into a novel, highly effective nanoemulsion for use in agrochemicals

UST successfully nanoemulsified astaxanthin – one of the most powerful antioxidants in the world

PBIO receives three international patents for its innovative UST platform

PBIO and Ohio State University announce the formation of a food industry consortium to advance the commercialization of the company's UST technology platform

PBIO targets the efficacy of therapeutics with improved drug delivery and dose security through UST processing
About FORCE Family Office
FORCE is the largest network of family offices in the United States with a significant and growing international footprint. In 2020 alone, they hosted more than 160 events, a number they expect to surpass each year. Her team is dedicated to helping family offices efficiently and successfully connect with private and public companies for co-investments, research, education and philanthropy.
About Pressure BioSciences, Inc.
Pressure BioSciences, Inc. (OTCQB: PBIO) is a leader in the development and distribution of innovative, diversified, pressure-based solutions for the global life sciences and other industries. Our products are based on the unique properties of both constant (ie static) and changing (ie Pressure Cycle Technology or PCT) hydrostatic pressure. PCT is a patented technology platform that uses alternating cycles of hydrostatic pressure between ambient pressure and ultra-high pressure to safely and reproducibly control biomolecular interactions (e.g. cell lysis, extraction of biomolecules). Our primary focus is the development of PCT-based products for biomarker and target discovery, drug design and development, characterization and quality control of biotherapeutics, soil and plant biology, forensics and anti-bioterror applications. In addition, major new market opportunities have arisen using our pressure-based technologies in the following areas: (1) Using our recently acquired, patented technology from BaroFold, Inc. (the "BaroFold" Technology) to enable entry biopharma contract services sector and (2) the use of our recently patented, scalable, high-efficiency, pressure-based Ultra Shear Technology ("UST") platform to (i) form stable nanoemulsions from otherwise immiscible liquids (e.g., oils and water) and to ( ii) to produce higher quality, homogenised, longer shelf life or room temperature stable, low acid liquid foods that cannot be effectively preserved with existing non-thermal technologies.
Forward-Looking Statements
This press release contains forward-looking statements. These statements relate to future events or our future financial performance and involve known and unknown risks, uncertainties and other factors that may cause actual results, levels of activity, performance or achievements of our or our industry to differ materially from future results or levels activities, performance or achievements expressed, implied or inferred by these forward-looking statements. In some cases, you can identify forward-looking statements by using words such as "may", "will", "should", "could", "would", "expects", "plans", "intends", "anticipates", "believes", estimates", "anticipates", "forecast", "potential" or "continue" or the negative of such terms and other similar terminology. These statements are only predictions based on our current expectations and projections about future events. You should not place undue reliance on these statements. When evaluating these statements, you should pay particular attention to various factors. Actual events or results may differ materially. These and other factors could cause our actual results to differ materially from any forward-looking statements. These risks, uncertainties and other factors include, but are not limited to, the risks and uncertainties discussed under the heading "Risk Factors" in the Company's Annual Report on Form 10-K for the year ended December 31, 2020 and other reports filed from the company from time to t I am with the SEC. The Company assumes no obligation to update the information contained in this press release, except as required by law.
For more information about PBI and this press release, please click on the following website link:
http://www.pressurebiosciences.com
Please visit us on Facebook, LinkedIn and Twitter.
Press contacts:
Richard T. Schumacher, President and CEO (508) 230-1828 (T)
Jeffrey N. Peterson, Chairman of the Board (650) 812-8121 (T)
SOURCE: Pressure BioSciences Inc.
View source version on accesswire.com:
https://www.accesswire.com/684551/Pressure-BioSciences-to-Participate-in-FORCE-Family-Offices-January-20th-Webinar-Innovations-and-Advancements-in-the-46-Billion-CBD- market
Martha Stewart CBD Launches its First-Ever Category Expansion with New Line of CBD Wellness Topicals
New Super Strength CBD Cream, Sleep Science CBD Cream and Daily De-Stress CBD Cream complete Martha's wellness portfolio
SMITHS FALLS, ON and NEW YORK, January 19, 2022 /PRNewswire/ — Martha Stewart CBD today introduced Martha Stewart CBD Wellness Topicals, marking the brand's first-ever category expansion in its growing CBD portfolio. Martha Stewart CBD offers consumers an easy way to meet their needs throughout the day with convenient and proven CBD products – including gummies, oils, softgels and the new CBD wellness themes. Martha Stewart CBD Wellness Topicals offer simple solutions that are easy to use and love and are part of Martha's wellness portfolio.
Martha Stewart with the new line of Martha Stewart CBD Wellness Topicals (CNW Group/Canopy Growth Corporation)
The topical line of products is designed to improve daily well-being in specific ways. It consists of the Super Strength CBD Cream for muscle recovery, the Sleep Science CBD Cream for better sleep and the Daily De-Stress CBD Cream for stress management. Each product is formulated with market-leading concentrations of CBD, powerful co-actives, and proven aroma technology specifically formulated for each need, all carefully balanced for optimal results.
"I believe that living the good life can be simplified by focusing on practical and effective solutions, which is why I developed this series of CBD wellness topics with the Canopy Growth team," says Martha Stewart. "I'm excited to improve the daily lives of our customers through proven formulations that make wellness accessible and convenient, with offerings that address muscle discomfort, sleep deprivation and stress."
The potent formulas were developed by Martha in partnership with Marquee Brands and Canopy Growth Corporation, a global leader in diversified cannabis and cannabinoid-based consumer products. Leveraging Canopy Growth's unparalleled consumer insights and continued innovation in this space, the new line utilizes cutting-edge aroma technology that has been shown to activate key areas of the brain to induce mood state changes in the areas of relaxation, reduced anxiety, emotion and memory.
The story goes on
"Martha Stewart CBD offers consumers simple solutions to improve their everyday wellness, and we're excited to expand into a new category with the launch of these CBD wellness themes," said Dr. Anna Persaud, Vice President of Skincare & Topicals at Canopy Growth. "Tried and tested on consumers, these high-quality, potent topical solutions are scientifically formulated and rigorously tested to the pinnacle of industry standards, and the new line represents the latest innovation in Martha Stewart's growing portfolio of accessible CBD offerings."
Martha Stewart CBD Wellness Topicals are formulated with US-sourced broad spectrum CBD, with the line boasting market-leading CBD concentrations with the lowest price per mg of CBD compared to competitors. At launch, each SKU will be available in 20ml, 50ml and 150ml sizes.
Martha Stewart CBD Wellness Themes
Super strength CBD muscle recovery cream with powerful co-actives including Magnesium and Ginger

Sleep Science CBD cream for better sleep, with essential oils with aroma technology, including lavender and vetiver

Daily De-Stress CBD stress relief cream with aroma technology essential oils including Neroli and Ho Wood
For more information on these new offerings, visit marthastewartcbd.com where the full lineup is available, or follow @marthastewartcbd on Instagram. Martha Stewart CBD is now available in an affiliate program. Register to participate using the link here: https://bit.ly/3jM0cTh.
About Canopy Growth Corporation
Canopy Growth (TSX:WEED,NASDAQ:CGC) is a leading global diversified cannabis and cannabinoid-based consumer goods company driven by a passion to improve lives, end prohibition and empower communities by unleashing the full potential of cannabis . Leveraging consumer insight and innovation, we offer product variations in premium dried flower, oils, softgels, infused beverages, edible and topical formats, and vaporizer devices from Canopy Growth and industry leader Storz & Bickel. Our global medical brand, Spectrum Therapeutics, markets a range of full-spectrum products using their color-coded classification system and is a market leader in both Canada and Germany. Through our award-winning Tweed and Tokyo Smoke banners, we reach our adult consumers and have built a loyal following by focusing on quality products and meaningful customer relationships. Canopy Growth has entered the health and wellness consumer space in key markets including Canada, The United Statesand Europe through BioSteel Sports Nutrition and This Works skin and sleep solutions; and has launched additional hemp-derived CBD products The United States through our CBD brands First & Free and Martha Stewart. Canopy Growth has an established partnership with Fortune 500 alcohol leader Constellation Brands. Visit www.canopygrowth.com for more information.
About marquee brands
Marquee Brands is a leading global brand owner and marketer. Owned by investor funds managed by Neuberger Berman, one of the world's leading employee-owned investment managers, Marquee Brands targets high quality brands with strong consumer awareness and long-term growth potential. Marquee Brands strives to identify brands across consumer product segments with the aim of expanding their reach across retail channels, geographies and product categories while preserving brand heritage and enhancing the ultimate consumer experience. Through its global team of professionals and partners, Marquee Brands monitors trends and markets to grow and manage brands in partnership with retailers, licensees and manufacturers through dedicated, impactful strategic planning, marketing and e-commerce. www.marqueebrands.com. In 2019, Marquee Brands acquired the Martha Stewart brand, which reaches approximately 100 million consumers each month across all media and merchandising platforms. Martha Stewart is the founder of Martha Stewart Living Omnimedia and America's most trusted lifestyle expert and educator. Their branded products can be found in over 70 million homes and have a growing retail presence in thousands of locations.
Logo: Canopy Growth Corporation (CNW Group/Canopy Growth Corporation)
decision
Watch the original content to download multimedia: https://www.prnewswire.com/news-releases/martha-stewart-cbd-launches-its-first-ever-category-expansion-with-new-line-of -cbd-wellness-topics-301463787.html
SOURCE Canopy Growth Corporation
Cannabis Capsules Are Ultra-Efficient, But Are They Right For You?
This story originally appeared on Emjay
The future is here. Cannabis comes in an ultra-efficient smokeless pill form that you can take orally. It seems unconventional, but when you really think about it, most things come in pill form.
Shutterstock
It's not uncommon to see psychoactive compounds, medications, and dietary supplements in capsule or tablet form. It would be a lot weirder if you had to smoke your vitamins or your allergy medicine.
Before you run out and grab some cannabis pods, there are a few things you should know. The experience varies widely and the effects may not be for everyone.
RELATED: Berner launches "Caps by Cookies," capsules that mix mushrooms and THC
What is a cannabis capsule?
Cannabis capsules take the extract of a cannabis plant and mix it with a type of carrier oil in pre-measured doses. The packaging will usually list how much THC and how much CBD is in each capsule. You swallow your pre-measured dose of cannabis just like you would swallow any other capsule or tablet.
Cannabis capsules are not an adjunct to smoking or vaping cannabis. You are an alternative. If you don't like smoking or can't smoke, cannabis capsules allow you to enjoy the high of your favorite strains without involving your lungs.
Hemp or CBD capsules are completely different
Labeling is crucial, and vague terms can sometimes be misleading. Hemp is cannabis and CBD is a cannabinoid. Hemp extract capsules, or CBD capsules, are also technically cannabis capsules. The main difference between the two is that hemp capsules will not get you high. Hemp contains less than 0.3% THC, which is insufficient to induce any noticeable psychoactive effects.
That doesn't mean hemp extract or CBD are baseless. They're a great way to naturally induce relaxation and create feelings of emotional well-being without altering your mind. If you want some of the benefits of weed but need to keep your mind sober, CBD capsules are great. This is a complementary way to enjoy cannabis. You can take CBD with weed without getting high.
RELATED: How to Choose the Right CBD Softgel Dosage
How do cannabis capsules work?
You swallow your cannabis capsule and it reaches your stomach. Your body begins to digest and filter the cannabinoids, including the THC. They are released slowly over time, producing a high that can last up to two hours to start and up to eight hours to finally finish.
Capsules can be very polarizing. This is going to sound like an absolute nightmare to some people. If you want to be able to control your high and have a good idea of ​​when it will end, capsules are definitely not for you.
If you have a high THC tolerance and use weed for its medicinal or wellness benefits, you'll probably love the idea of ​​a capsule. Taking one low-dose capsule twice a day will give you benefits without making you feel too high to function. It's the perfect means to an end.
How capsules compare to other forms
Cannabis capsules work very differently than other forms of cannabis. For some people, this is a selling point. Others might see it as a disadvantage. It all depends on how you want to enjoy your weed.
vaporize cannabis
Vaping cannabis is one of the most convenient ways to use cannabis. It's not messy. There is no smoke, no ash and no lighter. You don't have to grind, pack or roll anything. You don't have to remove the resin from a pipe or bong. It's also extremely concentrated. You can take a strong hit from a vape and quickly end your smoking session when you have a novel to write or a song to play. You will feel the effects almost immediately.